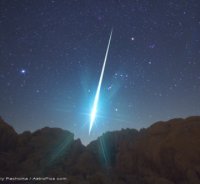 Looking up at the Sky tonight (if it is clear) you should be able to see a meteor shower! Sky watchers will be looking up in the coming hours as a meteor shower reaches its peak, sprinkling the night sky with falling stars.
Around 11.30pm here in the United Kingdom will be the best time to glance up into the night sky. It could quite easily be the best sky event of 2012, so far. Each hour tonight if the conditions are good the Royal Astronomical Society said there will shooting stars visible to the naked eye.
The event could be hard to visible through clouds, although it is being reported that the North East of England will have the best chance of a sky show!
But he warned the spectacle in the UK could be hampered by poor weather.
Meteors are small particles entering the Earth's atmosphere at high speed then burning up and providing a bright streaking light as the air heats around the particles.
The Geminid Meteor Shower has its name because the meteors appear to originate from around the constellation of Gemini.
2am Friday morning the Shower will be directly up the sky overhead the UK.
Another bonus is that the moon will not be present, providing a darker sky and increasing prospects for a good view of the meteor shower.
Here are some of the best images of the shower from previous years.
[button link="http://spaceweather.com/meteors/gallery_13dec09_page6.htm" color="#4acb49″ size="3″ style="4″ dark="0″ radius="auto" target="self"]View Geminid meteor shower images here[/button]